Scoville Fish Hatchery

Game Fish Stocking - Lake Management

Delivery and Shipping


Delivery trucks of several sizes are available to ensure live delivery of fish orders of any size. All trucks have insulated hauling tanks and use pure oxygen to ensure that fish arrive at their destination healthy and unstressed. There is typically a nominal delivery charge on all orders delivered to your location.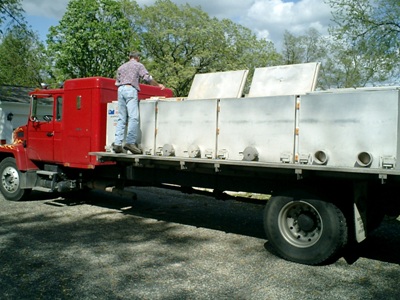 If your pond does not have adequate access for a truck, please have someone available to assist in unloading your fish and transporting them to your pond.

Customers are also welcome to come to the farm and pick up your fish. We will pack your fish (at no extra cost to you) in large heavy-duty plastic bags with water and plenty of oxygen for the ride to their new home. Please call if you have any questions about this service.
Home | Back to Top | Contact Us


Copyright Ó 2006 Scoville Fish Hatchery. All rights reserved. The name Scoville Fish Hatchery and associated logos are trademarks and the property of Scoville Fish Hatchery. All artwork, pictures and designs may not be copied, reproduced or used in any way without written authorization from Scoville Fish Hatchery. All other trademarks are the property of their respective holders. Comments or suggestions can be directed to the webmaster